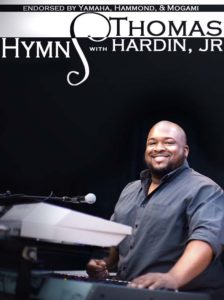 Chapters:
Just As I Am
I Need Thee Every Hour
Down At The Cross
Amazing Grace
Yes God Is Real
Worship Chords
Bonus Footage

Nobody Greater
Turning Around For Me
We Offer Praise
Oh Give Thanks
Have you been struggling playing hymns? Do you need some new exciting ways to play hymns?  Hymns With Thomas Hardin Jr. is just for you.  Thomas will give you basic approaches and he will give you Intermediate and Advance approaches.  He has played for many popular gospel artist like: Vashawn Mitchell, Rodney Bryant, Judith McAllister, CeCe Winans, and Donnie McClurkin just to name a few.  With several years of playing at mega churches and small churches, he is a well balanced musician.  This DVD not only gives you hymn breakdowns but there is a bonus section just to enhance your contemporary church playing.  Make sure to add this DVD to your collection and you will not be disappointed in the results.
Note: Suitable for all playing levels
Available by digital download only