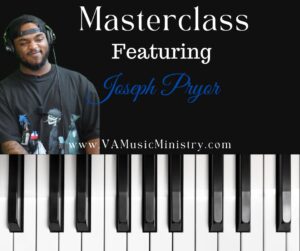 Chapters:
No Way (Piano)
Everything (Piano)
Preaching Chords (Organ)
Talk Music (Piano)
House Raising Chords (Organ)
Expect The Great (Piano)
We've Come This Far by Faith (Organ)
Backing Up a Soloist (Piano)
Leap (Organ)
Finish Strong (Piano)
Worship & Only You Are Holy (Organ) (Not a tutorial)
I'm Available (Organ) (Not a tutorial)
Bow Down (Organ) (Not a tutorial)
We Offer Praise (Organ) (Not a tutorial)
Baltimore style is in the studio with this Masterclass digital DVD.  Joe Pryor shows us how to worship, go to church, and how to have fun while playing the organ and piano.  Joe is known as one of the most rhythmic gospel musicians in the industry.  His approach to songs will open up your eyes to a whole new level of playing.  Don't miss out on this digital DVD but get your copy today.
Note: Suitable for Intermediate and Advance players
Price: $35.99