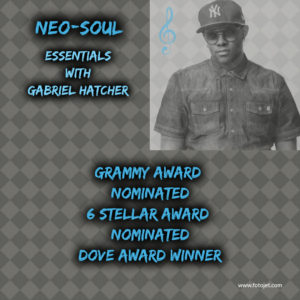 Chapters:
Neo-Soul Fundamentals
Neo-Soul Sounds
Neo-Soul Beat 1 & Breakdown
Neo-Soul Beat 2 & Breakdown
Neo-Soul Beat 2 Solo & Breakdown
Neo-Soul Beat 3 & Breakdown
Neo-Soul Every Praise & Breakdown
Bonus
Neo-Soul has been a popular genre for some time now.  Musicians have been playing it in church, clubs, and concerts.  This DVD will give you the fundamentals you need to be a neo-soul musician.  You have one of the best musicians in the music business teaching you the secrets of neo-soul.  Gabriel Hatcher II is Grammy and Stellar nominated, along with winning a Dove Award.  This digital DVD isn't long and drawn out like some DVD's but rather it gets straight to the point.  This one hour digital download comes with play along tracks and midi files.  Get that neo-soul sound by buying this download today.
Note: For Intermediate and Advance musicians
Price: $19.99
Available by digital download only